We are mostly active these summer days. Even so, we manage to get a few books read along the way.
The Bee Tree
by Patricia Polacco
As we loaded up yesterday morning for a friend's house I heard two boys arguing over who got the book. Somehow they've gained a mindset that each must have a book for sitting in the van, even if it is just for ten minutes.
This book is fun, funny, and infinitely endearing. About a grandfather and his granddaughter, he teaches her about work, enjoyment, community, tradition, and the importance of reading.
Highly recommended by me and the children!
As for me, I've been obsessing over simplicity.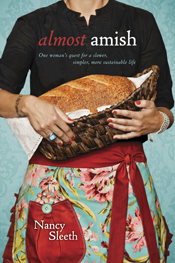 Almost Amish
One Woman's Quest for a Slower, Simpler, More Sustainable Life
by Nancy Sleeth
This balanced book covers technology, houses, food, mindset, and more. I was thinking it would be more radical in its assertions. Not at all.
It is thought-provoking, easy-reading, purposeful, and realisticly doable.
In each chapter she shares a bit of Amish mindset and lifestyle and then gives ideas on how to incorporate the Amish strengths into our own lives.
May your reading be enjoyable and your activities even more so this weekend! I'd love to hear of simple and fun books you're enjoyed!